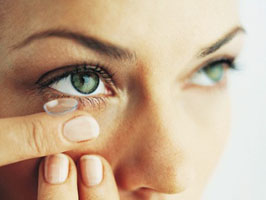 Contact Lens
Contact lenses are amazing!
We have a wealth of experience in the field and can guide you through the variety of lenses available to find you a type to suit your needs. We offer contact lenses to all our patients and aim to provide the best quality contact lenses and professional care to maintain and preserve the health of your eyes.
Make an appointment with us today and become one of the three million people in the UK benefiting from contact lenses.
The benefits of contact lenses
In recent years the technology used to manufacture contact lenses has advanced dramatically, making them incredibly easy to use and comfortable to wear.
We can help you find a type of lens to suit your individual needs, then you too will be able to enjoy the many benefits of wearing contact lenses.
Unobstructed vision – no distracting spectacle frames
Safe to wear whilst participating in recreation and sports
People of all ages can be fitted
Correct common eyesight defects – such as short-sightedness and long-sightedness
More complex conditions such as astigmatism and presbyopia can be treated effectively
Contact Lens Assessment
To wear contact lenses, you need a current glasses prescription. We will also carry out a contact lens assessment to ensure that contact lenses will be suitable for you. We will make sure that the recommended lenses fit properly and are comfortable to wear and that your eyes are healthy. You are now ready to choose your contact lens package.